A few years ago I began keeping my eye out for bags of vintage jewelry at estate sales…not high end stuff, rather bags stuffed with random single earrings for a few bucks. I love the color and sparkle of jewelry from the 50′s, 60′s and 70′s. I began playing around with them and thought they would make interesting one of a kind magnets.
To get started you only need a few tools…pliers, snipers, sandpaper, glue and magnets. Or you can go the easy route like I do and use a Dremel. It's a huge help when taking off the backs as well as sanding rough edges. 
These magnets make fun gifts for anyone who loves vintage.
Makes you want to go scour your Grandmother's attic right!
Linked up at: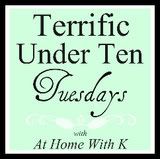 WWW.bluecricketdesign.net